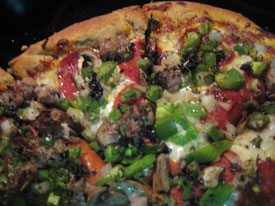 Pizza Crust
Pizza Sauce I or II
Mozzarella cheese
Parmesan cheese
Onion, diced
Green bell pepper, diced
Mushrooms, sliced
Jalapenos, sliced
Minced garlic
Chopped olives
1 Italian sausage link
Pepperoni

First you want to prep the pizza dough. I tend to have several pizza doughs stored in my freezer for that just in case time. Prep whichever pizza sauce you want to use as well. I find that making one batch of the pizza sauce makes about three pizzas worth. So don't hesitate to store it in the fridge and use at a later time.

While making the sauce, do that multi-tasking thing people talk about, and take the sausage and poke fork holes in it. Place it in water on the stove, heat can be medium-high. This will just help cook the sausage and drain the grease out of it. You can put the raw sausage directly on the pizza and it will cook, however it creates a grease that runs off and can make the crust soggy, so I suggest pre-cooking it. The sausage does not need to be all the way cooked through, once you remove it from heat, remove the casing and using your hands break up the sausage into pieces.

Turn your over on to 425 degrees and have the pizza stone in the oven while it's warming up. Roll your pizza dough out, once you are done pull out the pizza stone and rub some oil on it. Place the crust on the stone and spread out pizza sauce. Add minced garlic and then the cheese. Put the rest on in this order: Pepperoni, Mushroom, Italian Sausage, Onion and Green pepper, Jalapenos and then the Olives. Sprinkle some Italian Seasoning and slide into the oven for about 15 minutes or until cheese is bubbly.