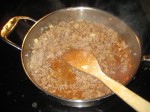 1 lb. ground beef
2 cloves garlic, minced
1/2 c. diced onions
Taco Seasoning
3/4 c. water
Cook beef, onions and garlic in pan until ground beef is brown and crumbly. Mix in seasoning mix and add water. Bring to boil, turn heat to low and simmer for 10 minutes.
Serve with fresh guacamole!