Preheat oven to 400 degrees.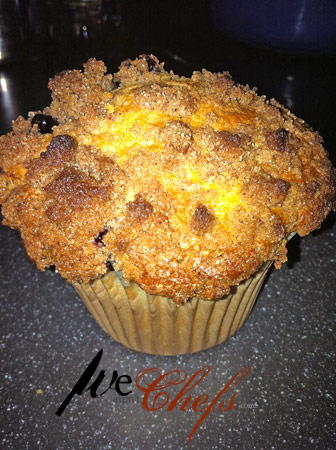 1 1/2 cups all-purpose flour
3/4 cup white sugar
2 teaspoons baking powder
1/2 teaspoon salt
1/3 cup vegetable oil
1 egg
1/2
cup milk
1 1/2 cup fresh blueberries
Cinnamon topping:
1/2 cup white sugar
1/3 cup all-purpose flour
1/4 cup butter, cubed
1 1/2 teaspoons ground cinnamon
Combine the first four ingredients into a mixing bowl. In a separate bowl add egg, milk and oil. Pour the liquid mixture into the dry and mix well making sure no clumps are left. Fold in blueberries and fill muffins 3/4 full. I use the big muffin cups which yields 8 muffins. Top muffins with cinnamon crumb miixture and bake for 20-25 minutes. Don't be alarmed if the batter seems thick, it is.
Topping: combine flour, sugar and cinnamon in a bowl and mix together. Add butter chunks and either use a fork or your hands and just mix the butter around and it will begin to form cinnamon chunks. Once done, sprinkle on top of muffins before going into the oven.